NFTs are essentially tokens that represent unique real-world or digital assets, like tickets. These NFTs are located on a blockchain network, a transparent ledger of transactions that can easily verify proof of ownership. This technology allows NFT tickets to be verifiable since the authenticity of that ticket can be easily validated. NFT tickets allow ticket holders exclusive access to benefits during the event. This gives artists and venues the opportunity to develop stronger and deeper relationships with fans. Not only do NFT tickets establish an immersive guest experience, they also can provide royalties for the artists and venues selling these tickets
Who is using NFT ticketing?
Startups can capitalize on the growing NFT marketplace. They can benefit from the utility that NFTs offer and generate new revenue streams.
Artists can use NFT tickets to build relationships with fans that would not be possible with traditional tickets. NFT concert tickets give fans access to rewards, stimulating the fanbase community.
Event organizers benefit from NFTs as they reduce scalping and help to avoid counterfeiting. This type of security transforms the current ticketing landscape and changes expectations.
NFT tickets hold intrinsic value. For those NFT enthusiasts, they provide the opportunity to add new NFT souvenirs to their previous collections.
When will NFT ticketing really take off?
People buy NFTs because they are immediately included in a community of like minded individuals that are invested in the project. Successful NFT projects go past the art and give their holders additional benefits to strengthen the community and bolster engagement. NFTs offer intrinsic value in allowing people to achieve status for being a part of a successful project.
Traditional tickets VS NFT tickets?
The NFT ticket marketplace provides solutions to many issues commonly faced with traditional ticketing. Traditional tickets use a dated and unexcited buying process. Their methodologies only give venues access to the primary sales market and beyond the purchasing process and a simple email reminder, there is no further engagement with the attendee. Once you enter the venue, these tickets no longer hold any value. NFT tickets, on the other hand, leverage cutting-edge technology to give real-world utility to a new and exciting experience. They allow for venues to generate new revenue streams by earning royalties on any secondary market resales. A positive thing about NFT tickets is that it is not possible to have replicas. Only original NFT tickets can be marketed and traded, eliminating counterfeiting and ensuring their value. Even more, they increase customer and fan lifetime value with in-event and post-event engagement, customer rewards/loyalty, exclusive access to gated content and more. These NFT tickets can be used as memorabilia for social sharing and virality.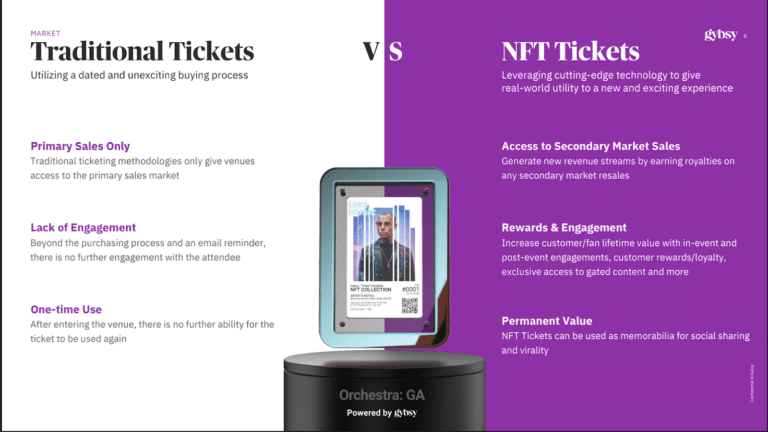 The NFT ticketing marketplace is driven by profits. These tickets sustain a relationship between fans and artists. This is the future of ticketing, allowing customers to enjoy enhanced live events while performers and venues regain control of the resale market. These NFTs go past the art and give holders the opportunity to strengthen their digital community and bolster engagement.
Gybsy is a Web3.0 platform that powers event ticketing and the guest experience by using blockchain technology to give venues and performers the ability to: generate new revenue streams with participation in any secondary ticket sales; increase customer engagement with pre-event, in-event and post-event promotions; and prevent fraud and counterfeiting using secure blockchain ticketing technology. 
—
Gybsy  "Powering Event Ticketing and the Guest Experience" www.gybsy.com