NFT smart tickets NFT tickets function as passes or permits for live events just like ordinary tickets do. NFT tickets, as opposed to other ticketing methods like actual tickets and conventional QR codes, provide some advantages. In the beginning, ticket sellers can monitor their sales on the blockchain. This gives event planners a precise attendance record and an immutable history of sales. Additionally, ticket sellers can bundle extra benefits like unique content, products, and experiences with their NFT tickets.
 NFT tickets aid in the reduction of ticket touting and ticket resale. It can be challenging these days to purchase a major event ticket directly from the original issuer. Tickets are frequently purchased in bulk and then resold at a higher price. However, it is more challenging to purchase NFT tickets in bulk because they are issued to a crypto wallet address. NFT tickets can occasionally be hard to come by, expensive, and given out only to ardent followers.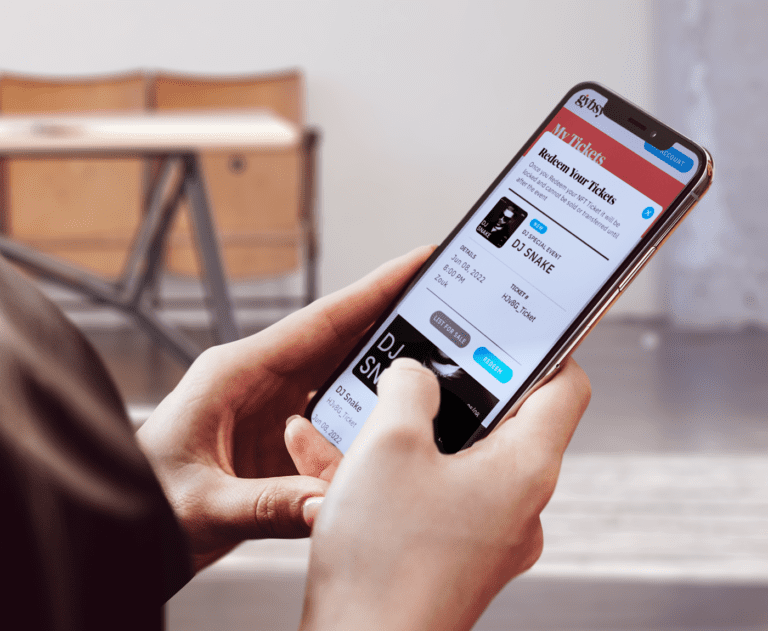 Examples of NFT Ticketing
 It's time to talk about What are smart tickets or NFT  smart tickets now. One of the most cutting-edge applications of NFTs to date is the tokenization of event tickets on the blockchain. With so many events happening daily throughout the world, NFT tickets have huge potential. In addition, 3LAU is a DJ, producer, and NFT lover. 2018 saw the DJ release NFTs for "Our Music Festival" attendees. Even though these NFTs weren't tickets, they did set the stage for some of the subsequent breakthroughs in NFT ticketing. Additionally, these NFTs enabled holders to make purchases of actual goods while at the event.
Benefits of smart tickets
The landscape of the events business may change as a result of NFTs (non-fungible tokens). Now that technology has advanced, brands can provide attendees with one-of-a-kind, captivating, and interactive experiences as well as a token of ownership—something significant from the event that they can have forever.
 Event organizers and marketers can apply a similar strategy for virtual and hybrid events. Offering value to your attendees and cultivating loyalty should be at the core of your plan, even though there are many ways to use NFTs at your event, from tickets to prizes.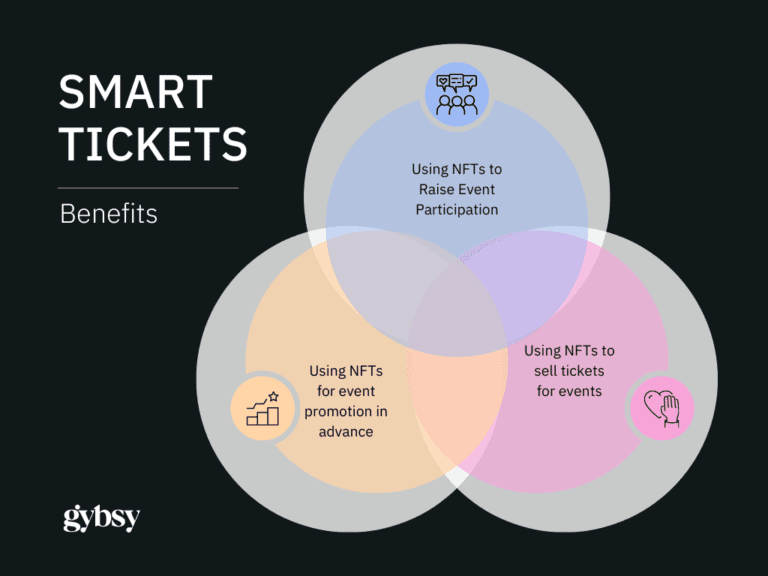 Using NFTs to Raise Event Participation
The engagement and conduct of eventgoers can be influenced and regulated using NFTs. An event organizer can utilize NFTs to encourage attendees to attend breakout sessions or restrict attendance to certain conference events to those who purchased a specific type of NFT ticket, providing them special access to presenters and exhibitors. By obtaining badges for attending sessions to access new NFTs, NFTs might also be utilized to make conference attendance more game-like. Simply using some imagination will enable NFTs to improve event engagement.
Using NFTs for event promotion in advance
A virtual or hybrid event's pre-event marketing and registration expansion can benefit from using NFTs. NFTs have unquestionably had a huge impact on the digital world recently. NFTs send a clear indication that you are current and even on the leading edge of the newest digital trends when it comes to marketing your event online, and that signal may be worth its weight in gold (or Bitcoin, if you prefer). NFTs also let prospective attendees know that they will have a unique brand experience by attending your event.
Using NFTs to sell tickets for events
Given that blockchain technology provides an immutable and incredibly secure ledger of transactions and ownership of digital assets, NFT ticketing makes a lot of sense for events of all types. They eliminate the possibility of counterfeit tickets or tickets sold for more than the initial sale price. If the original purchaser of the NFT tickets is unable to attend the event, the blockchain smart contract may be configured to permit both payments for the tickets at the original selling price as well as the transfer of the NFT tickets to another owner.
 If an event takes place, the smart contract for the NFT may specify that the NFT tickets turn into collectibles that may be sold at any price buyers are willing to pay, with the option of making a payment to the initial event sponsor. If there will be live entertainment, the NFT's software may automatically split ticket sales between the venue and the event producer.
Traditional Tickets vs Smart Tickets
By addressing the inefficiencies in the current ticketing system, NFT smart ticketing has the potential to upend the traditional ticketing market.
One of the biggest drawbacks of paper tickets and QR Codes is that they may be readily faked, leaving event venues vulnerable to fraud and disappointing supporters who inadvertently purchased a bogus ticket.
 However, because NFT ticket sales are documented on a blockchain ledger, both event planners and attendees can verify the legitimacy of each ticket in the chain and trace the ownership history. making it almost impossible for criminals to fabricate tickets.
Faster manufacturing at lower costs
Compared to the price required to make and distribute conventional tickets, the costs related to selling and minting NFT tickets may be less.
 NFT tickets frequently require far less lead time for manufacturing than physical tickets, enabling organizers to print and distribute tickets in just a few hours.
Opportunities for ongoing income
NFTs have the potential to create substantial value for all parties involved thanks to the blockchain technology underlying them. Through the use of smart contracts, NFT tickets can give the artist and event organizer continuous revenues. A portion of the proceeds from the resale of a ticket may also go to the artist if the ticket holder sells their ticket on an online secondary market. The built-in benefits of the ticket allow holders to sell the NFT airdrops they get as gifts.
Opportunities for ongoing income
Traditional paper tickets are prone to breakage and loss. The chance of losing or destroying your NFT ticket is drastically reduced because it is kept in a digital wallet that can be accessed on a mobile device.
How can smart tickets help?`
Event tickets are a logical fit when you think about how an NFT functions. Physical tickets, which often come in the form of a single, special piece of paper, are only valid for one admission or seat per event. In that sense, tickets are non-fungible. Tickets are distributed in limited quantities, much like NFTs, because live venues have capacity constraints.
 Through the use of a smart contract, a blockchain-based program, an NFT ticketing system can also aid in limiting resale value and costs. A deterministic software called a "smart contract" self-executes specific actions in response to certain situations. By establishing a regulation that could result in a royalty payment each time the ticket is transferred to a new owner, organizers can control how royalties are divided on secondary ticket sales.
The ticketing system allows event organizers to choose the blockchain platform they want to utilize for NFT tickets.

To sell the tickets, they can set a price or hold an auction by programming the NFTs.

An NFT-based ticket requires payment to the ticketing company when it is purchased.

A payment triggers a smart contract, which causes an NFT to be sent to the buyer.

Once you've paid for these tickets, you can keep them in customer wallets and use mobile devices to access them.

The ticketing business demands that the ticket be uploaded to IPFS.

Tickets are kept in a database, and IPFS determines the hash.

The relevant NFT marketplace is then updated with these tickets.

When you get to the event, you must produce the NFT tokenized tickets.

Owners of NFT tickets may also resale NFT tickets on the NFT marketplace.

Smart contracts are used to store the resold NFT tickets.

When the buyer buys the ticket, the smart contract automatically sends money to the seller.

Not bad, huh? Such a structured, reliable, and safe platform.

Can I get smart tickets for my event?
A memorable experience can include attending your favorite musician's live performance among tens of thousands of other fans. Imagine, though, that you are standing in line to enter the concert venue when you grab your old type ticket and it isn't in your bag. You experience a feeling of terror as you scramble to find your paper ticket while hurriedly searching your pockets and purse. An NFT smart ticket would be quite helpful for a concert goer in a circumstance like this. The likelihood of your NFT smart ticket being misplaced, stolen, or damaged is minimal because they are digital assets kept on a blockchain. Additionally, NFT smart tickets have the potential to appreciate and serve as permanent mementos. It should therefore come as no surprise that NFT technology can aid in addressing the inefficiencies that the legacy ticketing sector is now experiencing.
We all understand that NFT tickets are simply regular tickets. Although they are still in their infancy, NFT tickets are quickly catching up. Over regular tickets, blockchain-based tickets have some advantages, and as the technology develops, additional advantages are being found. The fact that NFT tickets can be verified and have price limits built-in may be the factor that prevents scams, forgeries, and scalping the most. Additionally, each time a ticket is sold, they can pay royalties to the person who first issued it.
Tickets from NFT can develop into priceless artifacts that can be sold on the secondary market. The future of in-metaverse events in games, which are only becoming more and more popular, is also represented by these tickets. Since dynamic NFTs have been developed, it is now possible to move an asset from a fungible to a non-fungible token, and their properties can alter and change over time.
Pre-sales of NFT tickets, especially those with royalty splits, might aid smaller organizations in funding upcoming events like concert tours. In addition, they can be a fantastic way to support charitable causes. Last but not least, NFT tickets encourage community participation, which boosts demand for and sales of further tickets and products.
NFT tickets might surpass their conventional counterparts in popularity as NFT technology develops and blockchain and cryptocurrency technology become more widely used.
Gybsy is a Web3.0 platform that powers event ticketing and the guest experience by using blockchain technology to give venues and performers the ability to: generate new revenue streams with participation in any secondary ticket sales; increase customer engagement with pre-event, in-event and post-event promotions; and prevent fraud and counterfeiting using secure blockchain ticketing technology. 
—
Gybsy  "Powering Event Ticketing and the Guest Experience" www.gybsy.com