Despite fluctuations in the crypto market, the NFT sector remains extremely popular, with a $41 billion market expected in 2021 alone, according to a Chainalysis report. Most people associate NFTs with generative art projects, such as the wildly popular Bored Ape Yacht Club (BAYC). However, NFTs offer incredible value in a wide range of industries, including ticketing. NFTs have the potential to transform the ticketing industry in a variety of ways, including the prevention of fraud, increased efficiency, and the creation of collectible NFT tickets.
While physical tickets were once valuable collectibles, digitizing them into QR codes sent to users' email addresses effectively ended this trend—but NFT tickets could help revive it. As a result, NFT tickets can become valuable collectibles in addition to adding functionality.NFT tickets will always remain in the user's wallet as long as they have access. In this case, they are more durable than paper tickets, which can be lost or destroyed.
NFTs, non-fungible tokens, are cryptographic tokens representing distinct digital assets. They allow us to tokenize digital or physical assets such as art, collectibles, and real estate. NFT tickets are digital assets that store your event access credentials. To create an even more immersive fan experience, they offer ticket holders extra advantages such as meet-and-greets, exclusive merchandise, and more. NFT tickets, in addition to facilitating a closer relationship with fans, provide ongoing royalties to artists, event organizers, and stakeholders.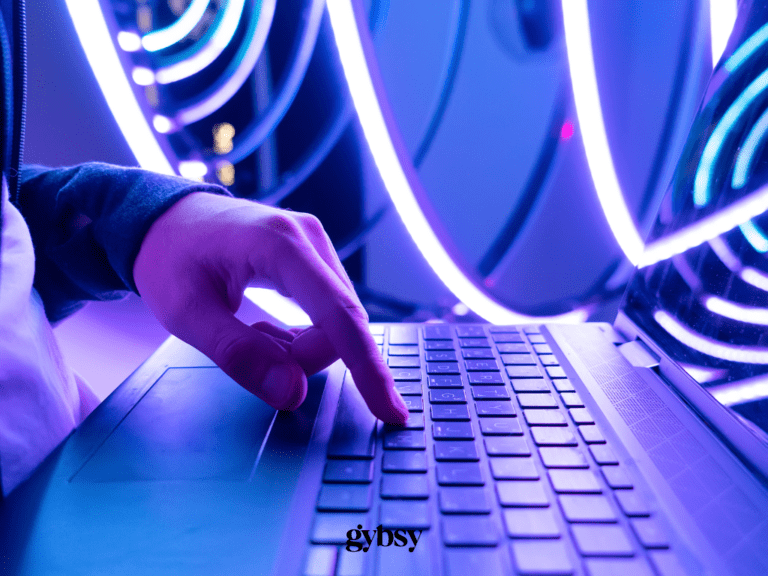 When considering the mechanics of an NFT, event tickets come to mind. Physical tickets are typically one-time-use pieces of paper only good for one event admission or seat. Tickets are non-transferable in this sense.
NFT tickets, like other NFTs, are unique tokens stored on a specific blockchain that can be transferred from the issuer to the buyer's wallet. The event organizers can print as many tickets as they require by using batch minting protocols (which we'll review in more detail later). These NFTs can be programmed to sell at a predetermined price, or they can be auctioned off using a proprietary platform or an existing NFT marketplace like OpenSea. NFT tickets also allow owners to resell their tickets on NFT marketplaces.
NFT Tickets preventing fraud
The ticketing industry is currently rife with fraud, with numerous unethical people selling fake tickets and others purchasing tickets in bulk only to resell them to customers at exorbitantly high prices. According to a recent poll, 12% of all concert tickets are counterfeit. This is because there is currently no effective method for tracking the history of ticket transactions from the original issuer to the end user.
One of the significant disadvantages of paper tickets and QR Codes is that they are easily forged, leaving event venues vulnerable to fraud and disappointing fans who unknowingly purchased a fake ticket.
However, because NFT ticket transactions are stored on a blockchain ledger, event organizers and attendees can verify the authenticity of every ticket on the chain and track ownership history. They can create significant stopgaps that help stop mass scalping and too much trading.
For example, if multiple tickets are traded from the same wallet in a short time or if a ticket modification hands more than a certain number of times, the issuer may deactivate these tickets. In addition, if  the issuer wishes for the ticket to be non-transferable, this can be built into the NFT ticket. These technologies are particularly important in fighting against ticket bots, which are automated programs that buy hundreds or thousands of tickets in seconds and then sell them for a higher price later.
NFT Tickets Are Faster And More Effective Way Than Traditional Methods
The costs of selling and minting NFT tickets may be lower than those of producing and distributing traditional tickets.
NFT tickets frequently require far less production time than physical tickets, allowing organizers to mint and distribute tickets in a matter of hours.
While NFT tickets can avoid mass scalping, not all ticket sales in the secondary marketplace are ethically wrong. If someone cannot attend an event, it's only fair that they could resell their tickets to some other party at an agreed upon (and hopefully reasonable) price. The issue is that many tickets are pre-printed with the specific buyer's name, making them difficult or impossible to use by a secondary market buyer. Because NFT tickets are nearly impossible to forge, a secondary market buyer can be confident that they are not purchasing a counterfeit or expired ticket.
Rather than relying on legacy software to generate digital tickets, NFT tickets can be printed in minutes. This simplifies and expedites the entire process for all users. This is not, however, the only financial advantage for NFT ticket issuers.
Because NFTs are fully programmable, each time the NFT is sold or transferred, it can send a specific royalty/revenue split to the original issuer. NFT tickets also enable ticket issuers to collect far more precise data on ticket utilization, which they can use for business and future marketing efforts. NFT tickets can also be used for co-promotional purposes, such as food and drink specials, discounts on future NFT tickets, or even rewarding loyal fans who have bought multiple NFT tickets with the same wallet.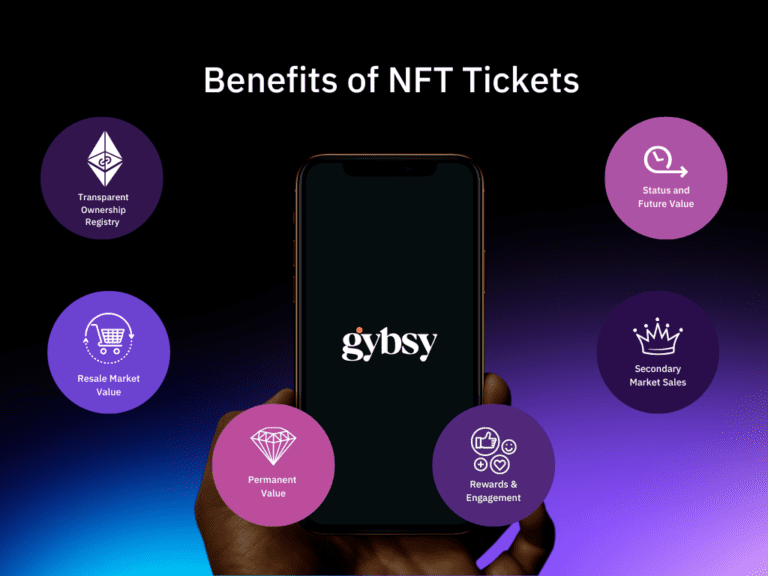 NFT Tickets for Digital Events in Metaverse
Digital events are hastening the metaverse's continued adoption. Now, the developers of Fanz dApp are working on a solution that will allow digital event organizers to monetize their events in the Decentraland metaverse using NFT tickets.
A recent fashion show in Decentraland attracted some of the world's largest fashion houses, including Tommy Hilfiger, Perry Ellis, Dolce, and Gabbana, and sold thousands of dollars of in-game NFT wearables. In addition, a virtual Travis Scott concert hosted in Fortnite in 2020 drew over 27 million players, making it the largest concert in human history.
While NFT tickets were not required in order to attend these specific events, future events of this type will almost certainly include VIP NFT tickets that provide exclusive access or perks. As an NFT in the Sandbox metaverse, Warner Media recently purchased a large concert venue, and Universal Music Group recently brought artist Jamiroquai into The Sandbox with immersive games and live concerts.
NFT Ticketing Vs Dynamic NFTs
The majority of NFTs are issued on the Ethereum blockchain in accordance with the popular ERC-721 standard. However, many NFT tickets now use the newer ERC-1155 standard, which Enjin Games developed in June 2018. Especially in comparison to the legacy ERC-721 standard, the ERC-1155 has several advantages. The most important of these is the ability to mint dynamic NFTs—NFTs that change over time due to various conditions coded into the NFT's smart contract.
ERC-1155 dynamic NFTs have the ability to shift from a fungible token (like ERC-20 NFTs) to a one-of-a-kind NFT by trading it 1:1 for other tokens at market price. This is especially important for NFT ticketing, as an NFT ticket can be programmed to be a fungible token well before the event and then transition to a collectible NFT that can no longer be traded on a 1:1 basis for other identical tokens.This prevents fraudsters from selling expired tickets as new ones.
Dynamic ERC-1155 NFTs also have a wide range of other properties related to ticketing and entertainment. A specialized ticket NFT, for example, could be programmed to share a particular segment of a concert's revenue with the NFT holder. Smaller organizations (such as regional bands) can fund upcoming concert tours in an unique way by selling an NFT upfront and sharing a portion of the event's profits later.
Furthermore, dynamic NFTs embedded in video games can provide ticket access to real-life events. These benefits even depend on how the NFT is used within the game. If an NFT holder, for example, wins a specific in-game challenge, their NFT may gain in-game value over time.
Top Companies Which Are Using NFT Ticketing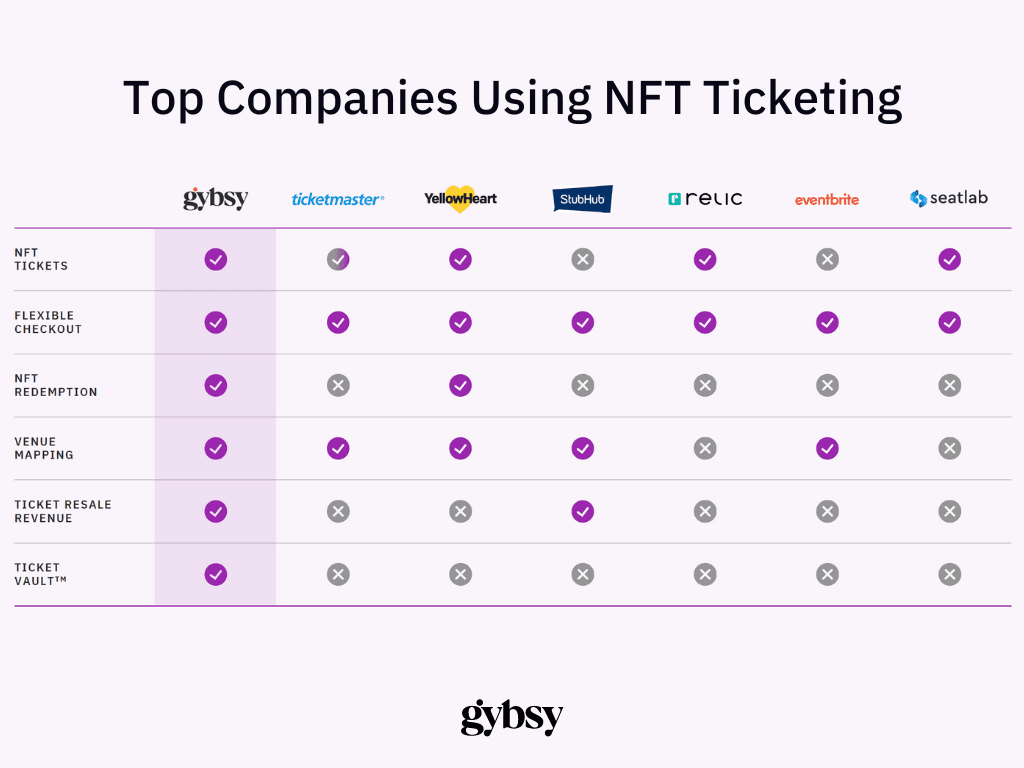 NFT tickets are already being used by a number of major organizations and groups. Some examples are:
Gybsy
Gybsy is a Web3.0 platform that powers event ticketing and the guest experience by using blockchain technology to give venues and performers the ability to: generate new revenue streams with participation in any secondary ticket sales; increase customer engagement with pre-event, in-event and post-event promotions; and prevent fraud and counterfeiting using secure blockchain ticketing technology. 
The Yellowheart platform also functions as an NFT marketplace for collectible NFTs tied to upcoming events. They have a mobile app and a large user base.
Their ticketing system is built on the Polygon blockchain and already has integrations with Facebook, Instagram, Amazon, Snapchat, StubHub, and SeatGeek.
Coachella recently launched its NFT marketplace, selling ten lifetime pass ticket NFTs for a whopping $1.5 million, with one ticket fetching more than $250,000.
The most recent SXSW festival organizers sold a variety of NFTs, including collectible NFT merchandise that provided specialized event access.
Coinbase's new NFT marketplace recently began selling NFTs for the famed Governors Ball Music Festival in New York City, which also included a free NFT that granted buyers access to a VIP lounge.
Wimbledon recently sold an NFT of Andy Murray's 2013 victory. The NFT featured two VIP tour experiences, including exclusive tickets to the Wimbledon Gentlemen's Final 2022 and a 30-minute personal tennis game with Andy Murray.
GUTS only uses the GET protocol and has sold over 600,000 NFT tickets. They are currently the largest ticket seller in the Netherlands and are rapidly expanding. The company intends to disrupt the ticketing industry by exposing how unfair the ticketing industry's mainstream business practices are.
GUTS provides smart digital tickets, fraud prevention, reselling, and ticketing for all markets, including theaters, concerts, live streams, and festivals.
WarnerMedia's DC Comics recently distributed comic book NFTs in conjunction with selling tickets to their DC FanDome event.
The NFL has teamed up with Ticketmaster to offer limited edition NFT commemorative tickets. During the 2022 season, these NFL NFT tickets will be available at 100 games.
NFT Tickets Represent The Future of Live Entertainment
Event attendees, promoters, artists, and marketers benefit from NFT tickets. Furthermore, they offer artists a one-of-a-kind opportunity to interact with fans and audiences through rare and limited-edition merchandise, content, and experiences. Additionally, NFT tickets help prevent scalping, which occurs when tickets are purchased in bulk and resold at exorbitant prices. Furthermore, the immutable storage of blockchain data enables ticket issuers to associate identity data with concert attendees for security and marketing purposes.
The music industry is one of the most important sectors to embrace NFTs. NFTs are quickly becoming essential for musicians, from creating new marketing avenues to exploring new audiences and creating unique fan engagement opportunities. Furthermore, as the NFT landscape evolves, we can expect NFT utility to grow and serve more roles in the arts and entertainment sectors.
Pre-sales of NFT tickets, especially those with royalty splits, can help smaller organizations raise funds for upcoming events such as concert tours. Furthermore, they can be an excellent way to raise funds for charity. Finally, NFT tickets contribute to more actively engaged communities, which increases the marketability and sales of prospective tickets and merchandise.
Some of the world's largest and most influential sports and entertainment organizations, including the NFL, WarnerMedia, and Wimbledon, are already using NFT tickets. As NFT technology evolves and crypto and blockchain technology becomes more mainstream, NFT tickets may become more popular than traditional counterparts.
Gybsy is a Web3.0 platform that powers event ticketing and the guest experience by using blockchain technology to give venues and performers the ability to: generate new revenue streams with participation in any secondary ticket sales; increase customer engagement with pre-event, in-event and post-event promotions; and prevent fraud and counterfeiting using secure blockchain ticketing technology. 
—
Gybsy  "Powering Event Ticketing and the Guest Experience" www.gybsy.com